Make Czech Republic Passport / Visa Photo Online

Step 1: Take passport photo using smart phone or digital camera.
Take the photo in front of a plain background such as white wall or screen.
Make sure that there are no other objects in the background.
Make sure there are no shadows on your face or on the background.
Position the camera in the same height as the head.
Shoulders should be visible, and there should be enough space around the head for cropping the photo.
Step 2: Upload the photo to make passport size photo.
Upload photo to make Czech Republic visa photo
Click here if you want to make passport / visa photos for other countries.
Passport Photo Size and Requirements
Phot size must be 35mm x 45mm.
The distance from the chin to the top of the head must be between 31mm-36 mm or 70-80%.
Plain white background.
Example Photos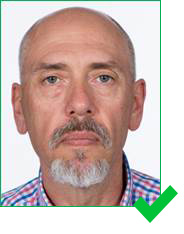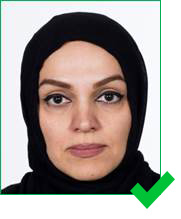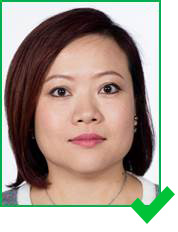 Other Passport / Visa Photo Rules, Guidelines, and Specifications
Photograph may not be older than six months.
Photograph must be in sharp focus and clear, printed on a high quality paper at high resolution.
The face must be centered and must cover most of the photograph - the focus may not be too close up or too distant. The head may not be tilted.
You must look straight to the camera. Facial expression must be neutral, the mouth must be shut.
Eyes must be open and entirely visible.
Red eyes or shadows on the face are not permitted.
Eyes behind the glasses must be entirely visible, flash reflections are not permitted, neither are tinted glasses.
Head covers are not permitted except for religious reasons.
Background must be single- and light-colored or neutral, contrasts must be natural, light must be uniform across the whole background.
Some leniency is allowed in case of photographs of children younger than 5, for example, the mouth can be open a little bit, position can be slightly tilted. Eyes must be open. Accompanying person or his/her hands must not show, neither toys or pacifier.
References