Make India Passport / Visa Photo Online

Step 1: Take passport photo using smart phone or digital camera.
Take the photo in front of a plain background such as white wall or screen.
Make sure that there are no other objects in the background.
Make sure there are no shadows on your face or on the background.
Position the camera in the same height as the head.
Shoulders should be visible, and there should be enough space around the head for cropping the photo.
Step 2: Upload the photo to make passport size photo.
Upload photo to make India visa photo
Click here if you want to make passport / visa photos for other countries.
Passport Photo Size and Requirements
The photo must be in size 2 inch x 2 inch (51 mm x 51 mm) and in colour.
Height of head from top of hair to bottom of chin should be 1 inch to 1-3/8 inches (25mm to 35 mm).
Example Photos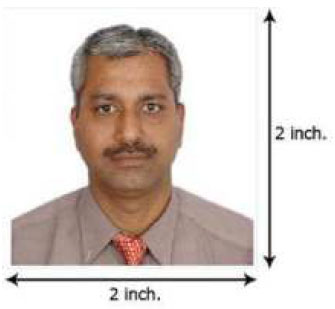 Other Passport / Visa Photo Rules, Guidelines, and Specifications
The photograph should be in colour and of the size of 2 inch x 2 inch (51 mm x 51 mm).
The photo-print should be clear and with a continuous-tone quality.
It should have full face, front view, eyes open.
Photo should present full head from top of hair to bottom of chin.
Center head within frame.
The background should be a plain light colored background.
There should not be any distracting shadows on the face or on the background.
Head coverings are not permitted except for religious reasons, but the facial fea tures from bottom of chin to top of forehead and both edges of the face must be clearly shown.
The expression on the face should look natural.
References